"Holistic treatment looks at bringing our whole system back into balance with our environment as well as within ourselves. It's not all in your head. Feeling good is not just affected by what you think, but it is also affected by the state of your body: your nutrition, hormones, neurotransmitters in your brain, environmental toxins in your tissues, energy levels, environmental energy influences, social influences, mental stimulation, ability to relax, traumas, etc. So I have added this section on products and information about natural ways to bring your body/mind into balance. These are products or companies that I use and recommend. Below is my personal experience with each product followed by a product-information link. I will be adding more products from time to time"
Kalie Marino
DCI Stargate You can sit inside the DCIStargate at our office for a relaxing, healing experience. The Dominus Cervix Stargate Astrum harnesses the power of crystals working with sacred geometry to create an experience of deep inner purification and activation of the light body. Everything within their field of energy is brought into a state of harmony and vibrates at a higher resonance. The Dominus Cervix energy neutralizes and transforms negative thoughts, emotions, and other negative energies, alkalizes the blood, and brings greater balance to the body and environment. Learn more about it on our website.
NES is the world's first computerized health system for the scanning, analysis and repair of the human mind/body-field at the quantum physics level. A NES ProVision scan not only analyzes the fields with groundbreaking accuracy that detects imbalances and previously undetectable problem areas, but it also gives energetic support for corrections using the magnetic resonance of NES infoceuticals. For more information, go to www.neshealth.com. Kalie Marino is a certified NES Health Practitioner.
"My whole family loves getting scanned and taking liquid drops to feel better. Thanks to NES, I no longer suffer from chronic Epstein Bar Virus, Chronic Fatigue and a trigger finger. My family and I use infoceuticals to maintain good health and clear out any imbalances and a lifetime of environmental toxins. Get your own scan at my office." Kalie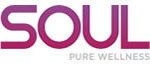 Soul is fantastic! It is an evolutionary leap in nutrition because it is made from crushed seeds. My family of three-experienced new energy from the first day we started taking it. It reduced aches and pains for all of us. Even though doctors said I need a triple spinal fusion, I am now off of all my anti-inflammatories, muscle relaxants and pain pills. We were also surprised when our eating habits changed and we lost about 5 pounds each in the first week without dieting, because our food cravings disappeared and sometimes, we forgot to eat. When we ate, we were satisfied quickly and just lost interest in eating more. I have never experienced food this way before! Even though we eat healthy, my body must have been missing some nutrients, because I use to find myself wanting something, but not knowing what. Now my body must be getting what it needs, because the cravings stopped. And to think, this is just a sided affect of the reason we are taking it. We took it to strengthen our immune system, stop inflammation, increase our energy and feel better. It did that and much more. It helps everyone I share Soul with no matter what kind of problem they have. Perhaps that is because inflammation is present in most health issues. For more information…
FDA approved of the HealthPax™for treating insomnia, anxiety and depression. It also helped with concentration, memory, and learning, while reducing stress and anger. There is also research supporting its use for painless withdrawal from drugs, alcohol and cigarettes. HealthPax™ was distributed as a prescription device for more than 20 years. Unfortunately, they went out of business. Fortunately, I was able to locate the CES Ultra™, a unit that appears to be exactly like the HealthPax™ except it is white and did not submit for FDA approval. "I highly recommend CES Ultra™. Many of my clients, friends and family have used CES Ultra™ just as effectively during major life changes."
Kalie
What you can expect when you experience CES for yourself (https://openheartinstitute.com/ces-experience/)
Technical information on CES Ultra™ (https://openheartinstitute.com/ces-ultra/)
I really like Ganoderma Coffee. It is a healthy instant coffee that tastes good without making you nervous. It is made with first quality, Brazilian Black Coffee with Ganoderma Lucidum mushrooms added to make it healthier. The flavor alone has made this their number one selling product. Don't buy the Reishi Coffee by mistake. I don't like the taste of it.
Tongkat Ali 4-in1™ is my husband's favorite instant coffee drink. Tongkat Ali, also known as "Long Jack" has had a long history in enhancing one's libido. Tongkat Ali Root (a small tree found in the jungles throughout Malaysia and Southeast Asia) has been combined with their rich and flavorful coffee, sugar and non-dairy creamer to create this wonderfully unique and energizing beverage.
Two other great drinks are Cappuccino Ganoderma and Ganoderma Chocolate Drink Mix ™. Check them out at www.ganobrand.com. Tell them Kalie sent you.
"I made arrangements to pass on my professional discount to you at Emerson Ecologics, because they carry a huge inventory of only the finest pharmaceutical grade nutritional supplements, homeopathic supplies, and pet health products at reasonable prices. You can read the latest nutritional research and receive Up to 20% in discounts on most nutritional supplements as a gift from me! Go to www.emersonecologics.com and tell them Kalie sent you." "You can get 10% off on your first-order from Vitamin Research Products by mentioning my name. They have some unusual products that you can't get any other place, and they have great articles. Many of my clients use their products for anxiety and depression. Go to www.vrp.com and tell them Kalie sent you."
Chemical Imbalance Myths
Chemical imbalance does not mean that doctors run a blood test to determine that you have too much or too little of some chemical in your body. Chemical imbalance does not mean that a prescription drug will rebalance your body chemistry, like taking insulin would for a diabetic. The term Chemical imbalance can be very misleading. It is used in the medical field to explain the use of drugs to treat emotional symptoms. However, doctors usually prescribe drugs based on symptoms, not on any body chemistry test. Taking a drug does not fill some deficiency, like taking a mineral for a mineral deficiency.